PROFESSIONAL TV WALL MOUNT SERVICE PROVIDER IN TORONTO
Top Rated TV installation company in Toronto
We are Toronto's most trusted professional TV wall mounting service provider, offering reliable, fast, and long-lasting installation and mounting solutions for both residential and commercial clients. 
Mounting your wide range TV or screen on the wall sounds easy, but it's actually more complicated than than you think. It is especially problematic if you try to DIY or hire a provider that does not have the proper skills and tools to get the job done well. At TVWallMountingService, we guarantee that your TV will be firmly and securely mounted on any type of surface, without compromising your comfort and interior design. We are one of the most sought-after TV wall mount solutions in the Greater Toronto area and beyond. We are proud of our work and our track record of happy customers can prove it.
We guarantee to provide the best quality audio and screen installation work for any purpose you might think of, all while considering your budget and practical needs. At TVWallMountingService, customer service is at the core of how we operate, and we make sure that no job is declared completed until you are truly satisfied with the output. Our team of installation specialists are always equipped with the right tools and updated on the latest technology so that we can work with any type of electronics, even the newest ones. 
Considering safety as paramount, our technicians will design stress-free and clutter-free solutions to wall mounts to meet your requirements, ensuring an excellent installation each time. Whether you want a projector screen or flat panel TV mounted on tiles, wood, stone, drywall, or any type of surface, you can rest assured of a smooth and seamless installation process that delivers an ideal viewing angle for a wall-mounted TV and at a price that's well within your budget.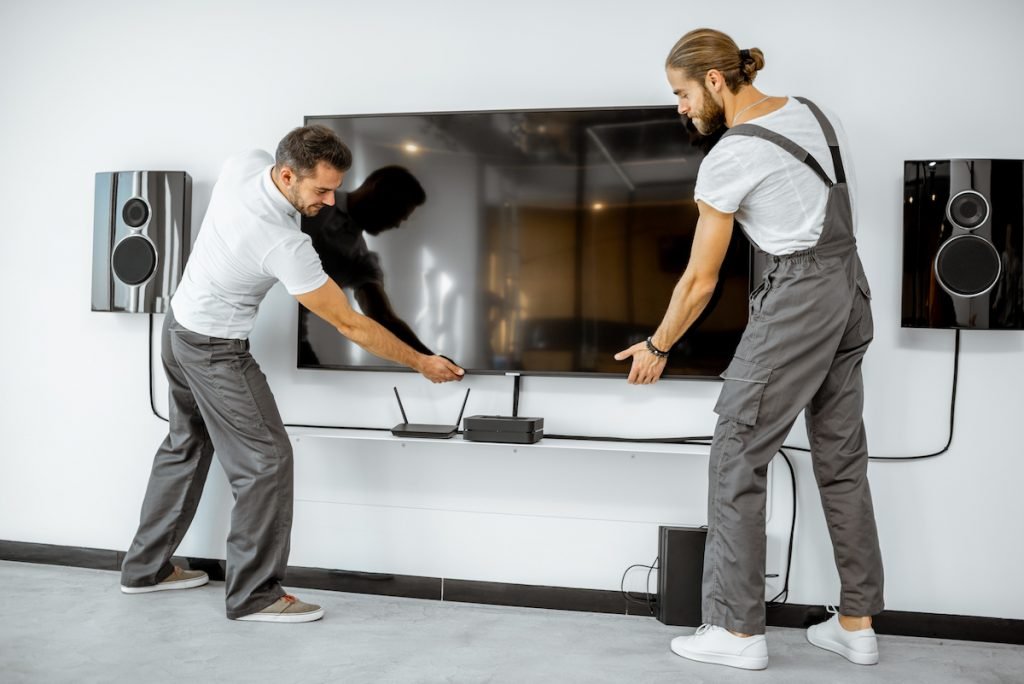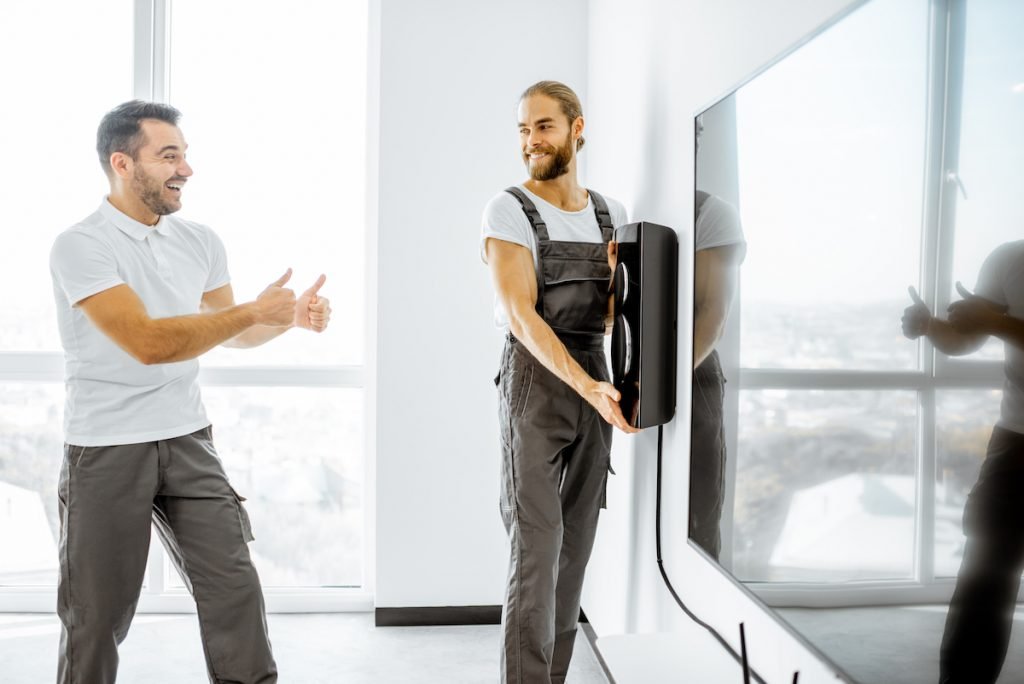 Mounting a monitor up on the wall requires expert evaluation and careful assessment of your surface and space. This enables us to design the most optimal solutions that will deliver the results you want. Having the wrong mount could lead to unnecessary costs. We ensure that every installation project is thoroughly evaluated and executed to deliver a beautiful and safe finish. 
We provide affordable yet premium quality projector installation services. With years of experience behind us, you are guaranteed of an output that exceeds your practical and aesthetic expectations. Our licensed technicians have all the know-how and tools needed to tackle and projector mounting need with style and accuracy. 
TVWallMountingService is equipped with the technical skills and equipment to create a beautiful and seamless video wall without any hitches. Video walls are typical of commercial TV installations but they can also make lovely additions to homes and offices. Because they are made up of several widescreen monitors that are prealigned to make one large screen, you will need the best technicians to make sure everything's lodged perfectly. 
A smart board is an interactive digital whiteboard that allows users to collaborate on a single screen, making it an asset for school or the workplace. With that said, ensuring that it is installed correctly is critical. We also know that smart boards can be pricey, and we guarantee that our mounting work will be seamless and accurate. 
TV installation requires precision and even perfection, whether for commercial or residential purposes. And when it comes to your display and cabling needs, you can count on us to get it done right. We can handle TV installations of any scale, including dismounting and disassembly, pre-cabling, designing, setting up, programming, range of motion evaluation, and many more. In addition, we can work with adjustable TV wall mounts, dual-arm articulated mount, full motion mounts, and flat or curved panel TVs and screens of any size and model. 
Professional Wire Concealment
We can handle all types of wiring jobs involving TVs, audio setups, Ethernet connections, internet networks, and many more. Low voltage cable wiring is what enables home or offices to use their digital devices within a communications system seamlessly. We can do this for you and more. 
For anything else that you want mounted on your wall, you can count on our specialists to get a perfect mount done. Be it paintings, frames, curtains, bikes, and all types of merchandise, you can breathe easy knowing we can complete this in no time. 
Digital Signage Installation
We know how vital digital signages are to one's business, and we take that to heart every time we design and install. Our expert installers are equipped with the knowledge and the tools to provide you with digital signage that will help optimize your operations.
Call Now For Same-Day Service. Fully Qualified & Insured
How much would it cost to mount a TV to the wall?
It will depend on what you are mounting and where. The cost of mounting a TV will be based on the surface, the type of bracketing you are using, the size of your flat screen, weight capacity, whether you're working with a motion mount, and basically the amount of work needed to complete the task. Some bracket systems even have remote controls. We will evaluate your space carefully to provide you with an accurate and best possible price. At TVWallMountingService, we offer the best price ranges in Toronto, so you can rest assured that you will work around your budget. 
Why should I get a TV mount?
A TV mount ensures that your flat panel TV is installed safely and securely to your wall. You don't want a TV that's just randomly positioned or wobbling awkwardly on its mounting bracket. You need the advice of a professional TV installer to find the perfect spot for a great viewing experience and design safe solutions for your space. 
Is it possible to mount a TV to any type of wall?
Yes. Just tell us where you want your TV mounted and we will work to make sure it gets done. Our installation experts are highly trained on different types of surfaces, wood stud, and other materials. We can work on drywall, wood, concrete wall, tile, stone, and more, whether you have a flat mount, full-motion TV wall mount, swivel TV mount, or any design. 
Does wall mounting damage my TV?
No. Wall mounting is simply another way to set up your monitor while helping you save counter or floor space. You can lay it flat against the wall using a wall bracket or a swivel mount without obstructing any of its functionalities. 
Same Day TV Wall Mount Installation Near Me
Top Rated TV installation company in Toronto and the GTA